Zucchini Hummus
1 cup peeled and chopped zucchini
¼ cup lemon juice
2 Tablespoons olive oil
3 cloves garlic
1 teaspoon sea salt
½ teaspoon paprika
½ teaspoon ground cumin
Pinch of cayenne pepper
½ cup raw tahini paste
2 teaspoons minced parsley
Paprika or chilli powder, olive oil, and pine nuts for garnish
Place zucchini, lemon juice, oil, garlic, salt, paprika, cumin and cayenne in a blender and process until smooth. Add the tahini and blend again until well incorporated. Transfer to a bowl and stir in the minced parsley. Garnish with the za'atar seasoning, paprika, olive oil, and pine nuts. Chill for 2 hours. The hummus will keep for 3 days in the refrigerator.
Nutrition Note: Tahini is made of ground sesame seeds and is used in many Middle Eastern dishes. Sesame seeds are a great source of B vitamins and calcium, which are even more bioavailable when ground into tahini paste. Two tablespoons of tahini contains almost 35 percent of your recommended daily calcium intake.
To provide an authentic touch you can add a Middle Eastern seasoning made of dried thyme, oregano, marjoram, sesame seeds, and other spices.
Cilantro Hummus
1 whole medium zucchini
3 cloves of garlic
1/2 bell pepper
4″ of leek base
juice of 1 lemon
1 cup sesame seeds
1 tsp himalayan sea salt
1/2 bunch fresh cilantro
1/2 cup water
Place the ingredients in a Vitamix
and blend until creamy.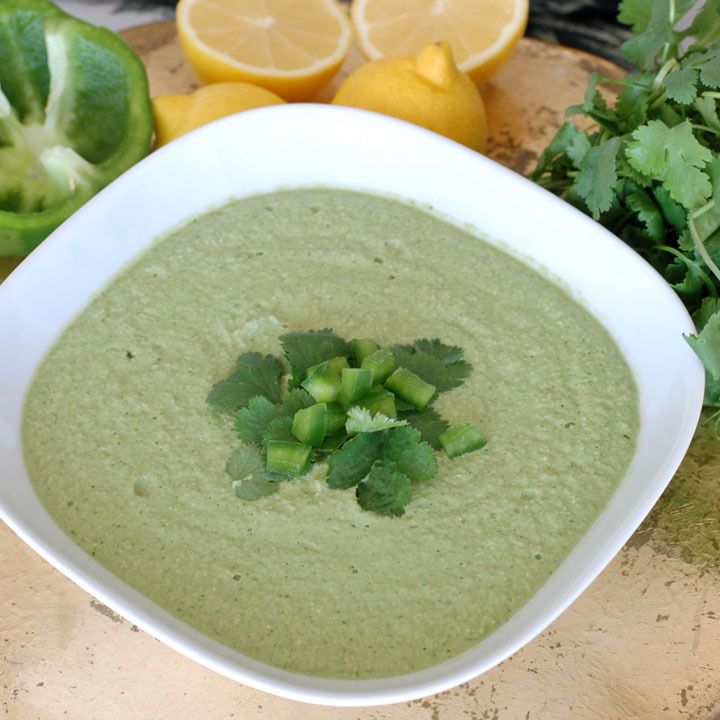 Baba Ganoush
1 medium-sized eggplant
2 Tbs. tahini
2 Tbs. lemon juice
1 large garlic clove
½ tsp. sea salt
a couple shakes of cayenne pepper (optional)
paprika or cumin for sprinkling on top
Quinoa Flatbread:
½ cup quinoa flour
2-4 Tbs. flaxseed meal
¼ tsp. salt
½ cup filtered water
And......then:
Preheat the oven to 400 degrees F
Prick the eggplant a few times with a fork
Place the eggplant on a baking sheet and bake in the oven for 40 minutes, or until it has shriveled
Remove the eggplant from the oven and allow it to cool until cool enough to handle
When you're able to handle the eggplant, remove and discard the skin
Break apart the inside of the eggplant so that you can fit it into a blender or food processor. Add the remaining ingredients (except for the paprika/cumin) and blend until completely smooth
Transfer the baba ganoush to a bowl and sprinkle with paprika or cumin
If you choose to make the Quinoa Flatbread, you can begin preparing it while the eggplant is still baking. Stir all of the ingredients together in a bowl until evenly incorporated. Pour the batter onto a parchment-lined baking sheet, forming two disks. Use a spatula to spread and even out the batter (it should be approx. ¼ inch thick). Once you've removed the eggplant, add the quinoa flatbread to the oven and bake for 20 minutes, or until brown and beginning to crack. Remove from the oven and allow to cool
Serve alongside freshly chopped veggies ----- mmmmm