Walnut Oatmeal Raisin Cookies
2 cups (200 g) walnuts
1 cup (30 g) (178 g) packed Medjool dates, pitted (soak for 15 minutes if they are very dry)
1 cup (80 g) rolled oats
½ tablespoon (7.5 ml) vanilla extract
1 teaspoon cinnamon
1⁄₄ teaspoon sea salt
½ cup (73 g) raisins
Additional
2⁄₃ cup (80 g) chopped walnuts
1⁄₄ cup (20 g) rolled oats
Put the walnuts into a food processor and process until they almost turn into walnut butter. Add the dates and process again until it becomes doughlike, then add oats, vanilla, cinnamon, and sea salt and process until well incorporated and doughy.
Transfer the mixture to a bowl and stir in the raisins.
Take one heaping tablespoon of mixture at time in your hands and shape into twenty balls. If your mixture isn't sticking together, sprinkle it with two teaspoons of water.
Spread chopped walnuts and oats onto a clean surface work area. Press the balls into the chopped walnuts and oats and shape into cookies.
Chill the cookies in the freezer for a chewier texture or in the refrigerator for a softer cookie.
Store in an air tight container in refrigerator or freezer for one month.
(yields about 20 cookies)
Strawberry Almond Macaroons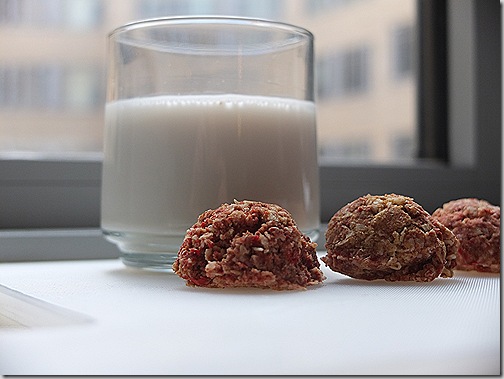 3/4 cup almond pulp, left over from making almond milk
1 cup unsweetened shredded coconut (unsweetened coconut flakes are fine too)
1/4 cup coconut nectar or other liquid sweetener (the almond milk recipe I use calls for dates, so the almond pulp is slightly sweetened. If your almond pulp is not subtly sweet, experiment with adding slightly more sweetener and cutting back on the coconut oil, below)
1 tablespoon virgin coconut oil, melted
1/4 teaspoon salt
1 teaspoon vanilla extract
1/2 cup freeze dried strawberries, preferably organic
Process all ingredients except for freeze dried strawberries in a food processor or mini-prep until they form a dough with some texture. Add a little more sweetener or water if the mixture becomes too thick.. Once the mixture is the right texture, pulse in the strawberries for a few seconds (I crushed the strawberries in the bag a bit before adding them to mixture in the food processor). Line a dehydrator tray (including the grid sheet) with a Teflex sheet and scoop round tablespoons of dough onto the sheet, resulting in about 10 macaroons. Dehydrate at 115 degrees for 6 hours, or until macaroons hold together well but remain soft and pliable.
(yields about 10 macaroons)
Mango Bars
2/3 cup dried mango, soaked for 1 hour and drained
1 cup Medjool dates, pitted
2 tsp vanilla bean powder (or 1 TBSP vanilla extract)
1 1/4 cup raw almonds
3/4 cup shredded coconut
3/4 cup rolled oats
3/4 cup raisins
1/3 cup pumpkin seeds
1/4 tsp sea salt
In a food processor, combine the mango, dates, and vanilla. Process into a very smooth paste. Add the remaining ingredients and pulse until everything is well combined but some texture in the nuts and seeds are retained.
Press the mixture into an 8x8 square or 8x11 rectangle (depending on the thickness you want) on parchment paper or a Teflex sheet. If you don't have a dehydrator place the bars in the freezer to firm up. If you do have a dehydrator, heat the bars at 110 degrees for 6 hours. Remove the teflex sheet and continue to dehydrate for another 6 hours. Cut into bars.
Dehydrated the bars will keep at room temperature for 2 weeks. In the freezer they will last as long as you can resist them (a couple of months at absolute most).
Citrus Coco-nana Squares



2 Tbsp chia seeds
1/4 cup fresh lime juice
1 Tbsp lime zest
2 medium organic bananas
3 Tbsp coconut butter, warmed until runny
3 Tbsp raw coconut nectar or raw agave nectar
1 tsp pure vanilla extract
1/4 tsp sea salt
1 cup sprouted, dehydrated buckwheat
1 cup finely shredded coconut
1 cup chopped macadamia nuts

Soak the chia seeds in the lime juice for about 15 minutes. Combine the seeds and lime juice with the lime zest, bananas, coconut butter, coconut nectar, vanilla extract, sea salt and process until smooth and well combined. Pour into a bowl and add buckwheat, coconut, and macadamia nuts and mix with hands until well blended. Place on a lined dehydrator sheet, shape into a square about an inch thick and use a knife to cut into 12 squares (but do not separate) and dehydrate* for 24 hours (flipping half way through and separating the squares) or until completely dry.