Ginger Citrus
1 navel orange, peel and seeds removed
1/2 grapefruit, peel and seeds removed
1/2 cup water, coconut water, or juice of your choosing
1 inch knob ginger, peeled and cut into a few pieces (if your blender won't blend this, you can use 1/4 tsp powdered ginger)
Blend ingredients till smooth. Sip and savor!
Strawberry Avocado Chia Smoothie
16 ounces of tea (or kombucha)
1 cup coconut water
2 cups strawberries (freeze strawberries for a cold smoothie)
1 small avocado—seed and skin removed
1 teaspoon turmeric powder
½ teaspoon fresh ginger—grated
1 small pinch fresh ground black pepper
2 cups dinosaur or curly kale—large stalks removed (around 4-5 leaves)
2 teaspoons raw honey or stevia to taste
1 scoop of raw hemp protein powder or 2 tablespoons hemp seeds
Place all ingredients in a high speed blender and blend until smooth and creamy. Enjoy immediately.
(serves 2)
Coconut Island Smoothie
1 pineapple
1 banana
2 pears
300ml coconut milk
200ml orange juice
Remove the outer layer and cut the pineapple into chunks.2. Cut the banana and pears into chunks too. No need to take the skin of the pear.3. Add all the ingredients into your vitamix or blender and whizz until smooth.4. Serve up in glasses and what the smiles.
(makes 6 glasses)
Anti-Aging Strawberry Energy Smoothie
3 cups unsweetened coconut water
½ cup organic coconut milk
2 cups organic strawberries
1 organic Persian cucumber—cut into large chunks
3 cups organic baby spinach
2 tablespoons Chia seeds
Stevia to taste
Place all ingredients inside a blender and blend until smooth. Enjoy immediately.
(serves 2)
Orange and Vanilla Hemp Shake
1 large navel orange, skin cut off and most of the white rind removed
1 large banana
2 cups hemp milk
Seeds from 1/2 vanilla bean, scraped out, or 1 tsp vanilla extract
2 tbsp hemp protein powder
4 large kale leaves, tough stems removed
Blend all ingredients in a high speed blender till smooth. C
Tummy Healer Smoothie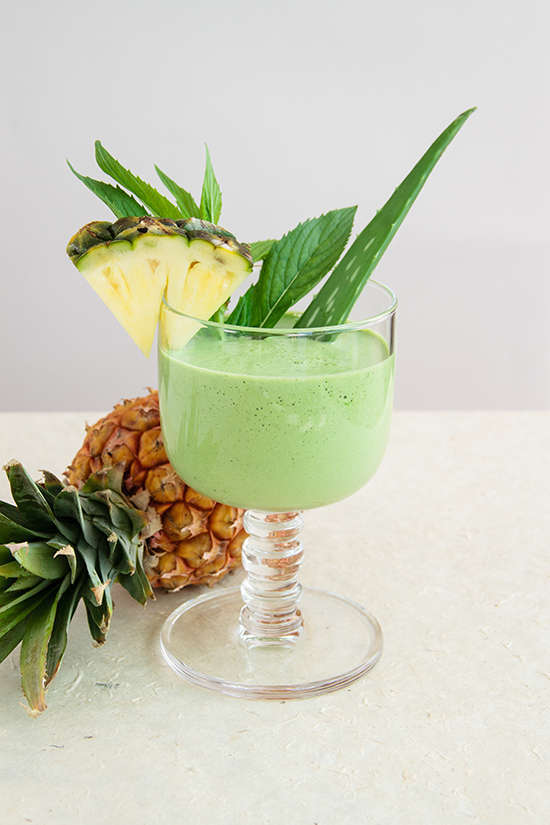 1 cup spinach
¼ cup fresh mint
1 cup pineapple, frozen
2 tablespoons aloe vera juice, or a 2 inch fillet straight from the plant
2 teaspoons honey
½ inch fresh ginger, peeled and minced
¼ teaspoon tumeric powder
1 lime, peeled
¾ cup coconut water
Pineapple
Pineapple contains the protein digestive enzyme Bromelain, to help us break down our food. Bromelain also works to curb the appetite, reduces inflammation and swelling, can give relief for sinus and speed up wound healing. Pineapple is also high in fibre, speeding up transit time in the colon (= flat tummy), and a great source of Vitamin C and manganese. Manganese is an essential cofactor in enzymes needed for energy production and antioxidant defense.
Mint
Mint is a carminative and digestant. It soothes the digestive tract. It's especially useful for those with IBS, to help settle the tummy. It can relieve spasms and gas. It's comforting – like giving your tummy a hug.
Ginger
Also a carminative, traditionally used to aid gastrointestinal distress. It relieves gas, and calms muscles spasms in the gut. It is also used to prevent motion sickness, nausea and vomiting. It gets right into the gastrointestinal tract and neutralizes acids, hormones, and toxins. Ginger is anti-inflammatory, thanks to the anti-inflammatory compounds Gingerols, which inhibit the inflammatory messengers of the immune system. This makes it really good for people with rheumatoid arthritis.
Tumeric
A potent anti-inflammatory, due to Curcumin (the bright yellow pigment), an anti-oxidant. Usefull for treating digestive disorders – gas, bloating, stomach ulcers, Crohn's and Colitis. It adds a very subtle kick to the smoothie.
Hibiscus Tea with Watermelon & Strawberry
I love to mix hibiscus tea with different juices.
2 parts hibiscus tea
1 part fresh watermelon juice
1 part fresh strawberry juice
2 limes, juice of
1-2 limes, sliced (whole round slices)
Mix all ingredients together in a large pitcher with slices of lime , chill and serve.
Banana, Spinach & Bee Pollen
Bee pollen is high in B12 and assists the body with detoxing.
4 ripe bananas
Half a bunch of spinach
2 cups of orange juice
A dash of spirulina (for an extra dose of Vitamin B-12)
1 tablespoon of organic raw bee pollen
A couple ice cubes (optional)
Blend the bananas, spinach, orange juice and spirulina in a Vitamix
, sprinkle the bee pollen on top.